Businesses: Distinguish yourself or company from the competition. Connect your brand to Butte Humane Society and help promote Bidwell Bark in your place of business, on your website and through social media.
Everyone: Download posters, flyers, and find sample social media posts and email signatures below.  You are also welcome to share any of the materials you find here, such as the graphic at left, to show off your support of the BHS Bidwell Bark!
---
Create a Business Team!
Have a service that animal lovers need? Want to let your customers know you care about the same causes they do? Get your name out there by joining the fun of Bidwell Bark!
3 benefits for your business to create a team:
Makes for great team building among your staff by joining together for a common goal of making a positive change for animals in our community!
Promote your business in connection with a cause your customers care about!
Any team that raises $2,500 or more receives a free booth space at Bidwell Bark. Any business team that raises $5,000 or more can include their business flyer in our adoption packets (up to 1000).
We appreciate your efforts to raise needed funds for animals who have been neglected, forgotten, and left unwanted. Together, let's make our community better.
---
Bidwell Bark Posters
Print a Bidwell Bark poster suitable for posting in your workplace, lobby or storefront. (Download Here)
---
Bidwell Bark Social Media
Quick and Easy Idea: save any graphics from this page and use them as your own Facebook profile image to help promote Bidwell Bark!
Facebook Cover Photos: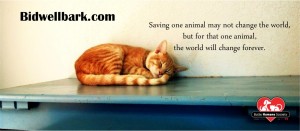 Get Inspired Idea: take a photo of you with your pet with a sign saying why you help animals!
Remember to share with your friends, family, and clients.
Include one of the following sample messages and an image of your own pet(s) or the Bidwell Bark image provided on this page:
Visit us / Join me at Bidwell Bark! (link to your personal or team page)
Proud Supporter of Bidwell Bark! (link to your personal or team page)
#BidwellBark
---
Bidwell Bark Email Signatures
Here are a few sample email signatures for your emails:
Visit us/me at BIDWELL BARK! Bidwell Bark is Butte Co. largest dog-friendly event.
Join us for a fun-filled day to help animals in need. Register for Bidwell Bark today!
Join us/me in supporting animals in need! Register today for Bidwell Bark.
We're strutting our paws for a cause! Visit us/Join me at Bidwell Bark, September 12th, Sycamore Field at Lower Bidwell Park.