Please contact Brad Montgomery for any inquiries regarding a sponsorship Bidwell Bark!
bradmontgomery@buttehumane.org | 530.343.7917 x 133
2019 Sponsor Levels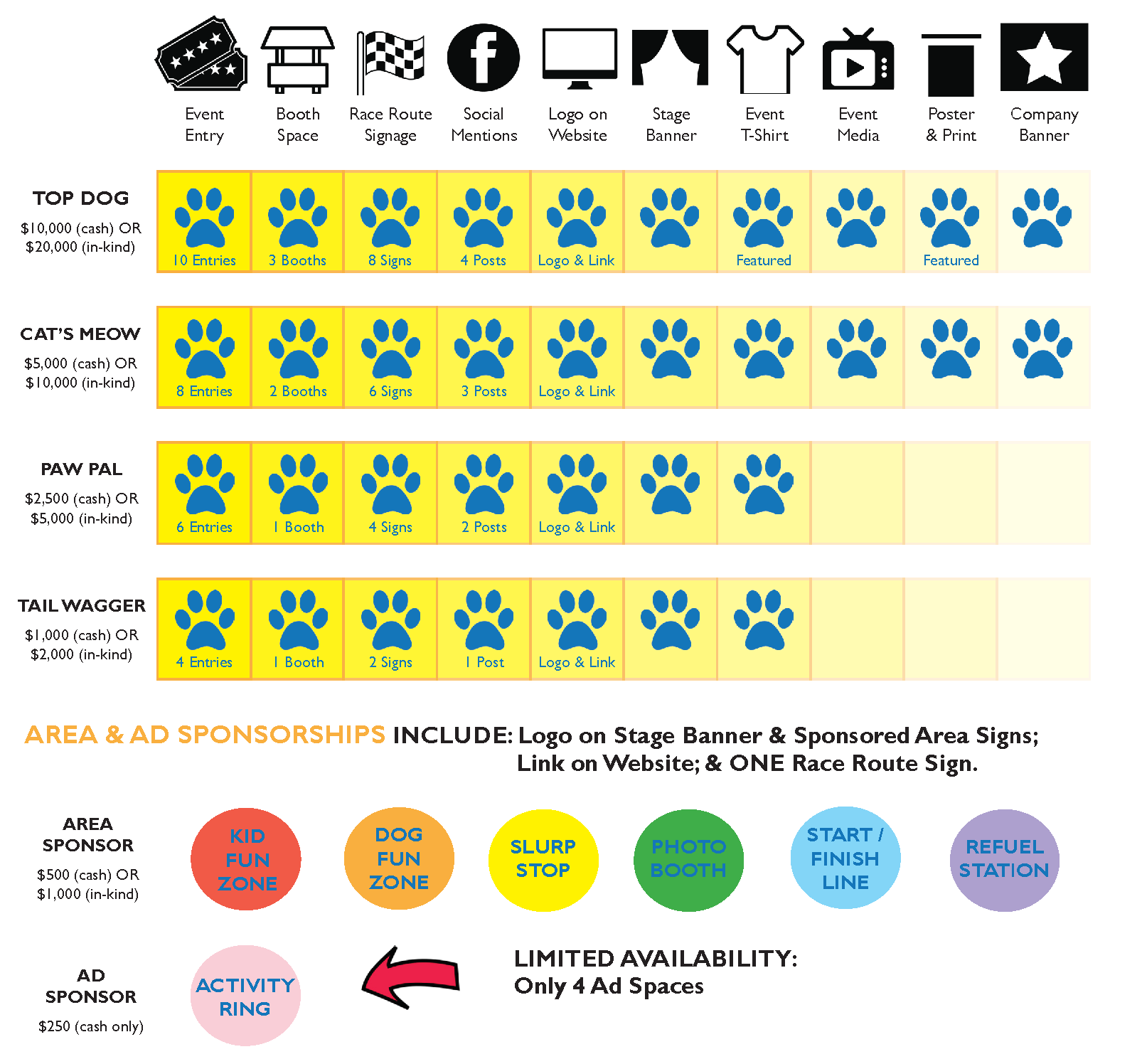 Marketing Opportunities Defined

Event Entry: Free registration(s) to the 2K walk or the 5k run and festival. Event entry includes registration in either the walk or the run, a complimentary event t-shirt, and breakfast snacks at the end of the race.

Booth Space: A 10' x 10' space in our vendor area to promote your business, you must provide your own canopy, table, and chairs. Have marketing items you'd like to hand out? Even better! Feel free to have goodies at your booth for all attendees to enjoy.

Race Route Signage: To make sure all racers stay on course, we will have route signs posted throughout Lower Bidwell Park to direct traffic during the 2K walk and the 5K run. Your logo will be featured on a certain number of route signage (see Sponsorship Levels for details).

Social Mentions: With over 10,000 followers on Facebook, your brand will receive great marketing exposure through branded sponsor posts throughout the weeks prior to the event. These posts can include brand designated verbiage, branded graphics, and direct linking to your Facebook business page or website.

Logo on Website: Your logo displayed on the Sponsor & Vendor page of the Bidwell Bark website. This perk is great exposure for your brand as over 1,500 participants sign up for the event through this channel. Top Dog, Cat's Meow, and Paw Pal include a link to your site.
Stage Banner: Our main stage is adorned by a large vinyl banner that will include your company's logo as a supporter of Butte Humane Society and Bidwell Bark.

Event T-Shirt: Each entrant receives an event t-shirt that includes all sponsor logos on the back. Size and placement of logo is contingent upon level of sponsorship, i.e. Top Dog sponsor logos will be at the top and relatively large in size, Cat's Meow sponsor logos will be below that and a little smaller, etc.

Event Media: BHS uses a variety of media channels to promote the event, including radio spots, print ads, and television commercials. As a Top Dog or Cat's Meow sponsor, your business will be mentioned in every piece of creative syndicated through each media channel.

Poster & Print: A major component of our event marketing is the community poster. With limited space on the 11" x 17" poster, we include only Top Dog and Cat's Meow logos. These posters and various other print materials are disbursed throughout the Chico community and provide invaluable brand exposure.

Company Banner: The opportunity to display your own company banner in the spectator's ring at the event. Please note that the banner must be provided by the company, BHS will not be designing or printing banners to fulfill this perk.